electrical:solar:charge_controller_setpoints
This is an old revision of the document!
---
Table of Contents
Solar charge controller setpoints
Solar charge controller, converter, and DC-DC charging behavior is guided by setpoints, which are settings stored in the controller. They may or may not be configurable by the user.
The two most important setpoints for battery life and performance are charging voltages: Absorption voltage and Float voltage, discussed below.
charging setpoints
Charging setpoints are configured in accordance with the battery manufacturer's recommendations.1) These recommendations are published in manuals, spec sheets, corporate blogs, etc. For example, Trojan's recommendations for charging their T-105 AGM batteries looks like this: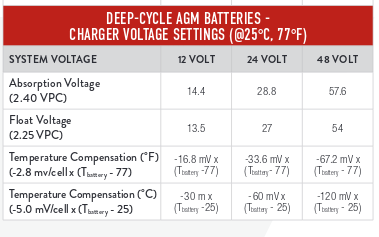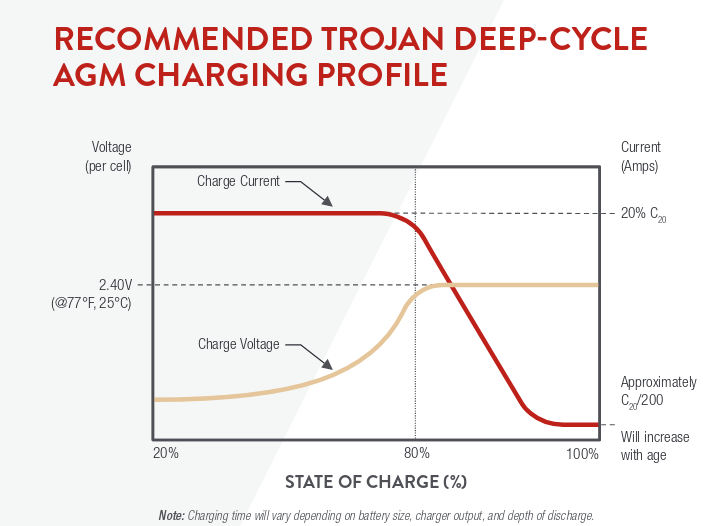 Simpler charge controllers may only have preconfigured presets like "FLOODED" or "AGM" and don't let you set exact setpoints. If this is the case pick the closest preset to the recommendations5) and understand you will likely not get full performance or lifetime from the battery bank. Shunt controllers typically have only one configurable voltage setpoint. The simplest controllers may have no battery settings at all, and may or may not publish what those mystery settings are.
Less common setpoints:
load setpoints
Only present on controllers with LOAD outputs.
non-setpoint settings
electrical/solar/charge_controller_setpoints.1578931585.txt.gz · Last modified: 2020/01/13 08:06 by frater_secessus