Table of Contents
Finding your camper
areas with many good vehicles
Florida has been touted as a place to find commercial campers and RVs. Retirees from the NE plan to RV together in that warm state but either change their mind, upgrade to another RV, or stop RVing because of health or age reasons. There is no ice in Florida (hence no road salt) but do look for rust caused by salt water breezes or drives on the beach.
The American Southwest is another good place as there is no road salt. Paint can be degraded by "sun fade"1) but that is cosmetic rather than functional. Tires can be dry rotted and dashboards and interiors sun-damaged.2)
Colorado does not use road salt, relying on gravel instead. Locals advise that cracked windshields from gravel are to be expected.3) 4×4 campers may be more common in mountainous areas.
Vehicles that have not been on the beach in California will be in good condition but will generally be more expensive4) and may have complex, expensive, and performance-altering CA-specific emissions.5).
finding vans
One you know geographically where to look the search comes next.
Take advantage of any automation tools the site offers (email alerts, saved searches, RSS feeds).
campers to rule out
VIN checks
The free Vehicle History VIN check will show a surprising amount of info from various public sources.
The free NCIB VIN check will identify salvaged (totaled) and stolen vehicles.
The free Carfax Flood VIN check will identify flooded vehicles.
Check That VIN is currently the lowest cost VIN check for branded titles or liens at $3.99. You may be able to get this information for free from your state. The federal reminds us that:
Consumers CANNOT receive NMVTIS Vehicle History Reports from Carfax, CVR, DMVDesk, Experian, or TitleTech; these five entities provide information only to car dealerships.

6)
If your vehicle passes all those you might want to look at the free NHTSA recall VIN check to see if there are any outstanding safety recalls.
vehicles salvaged from floods
The free Carfax Flood VIN check will identify flooded vehicles.
Pay attention to mold/mildew smells. Lift trunk carpet and look for mud.
vehicles from salt belt states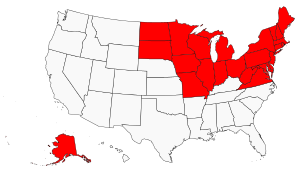 Some states in the northeast and northern midwest use salt on the roads to melt ice.
Colorado and Utah use non-salt chemicals or gravel on the road.
Alaska is too cold for road salt to be used there.
untitled vehicles
Untitled vehicles are nightmares. Here are the magic questions to avoid title nightmares:
"Do you have the title in hand?"

"Does the name on the title match your ID?"